"Circuit Wall" Enhancement/Replacement Kit
for Moebius Models' 18" Jupiter 2™ $42.
A new standard of achievement can be yours.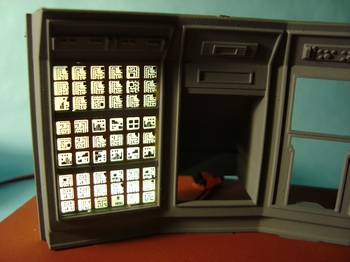 The notorious "Circuit Wall" — a large, floor to ceiling panel — is one of the hardest parts of this large model to get "right." The kit part is a large chunk of clear plastic, with the circuits in a raised, waffle-like pattern. On the underside and clearly visible, is some sort of inset panel that coincides with the waffle pattern on the opposite side. Looks odd if not terrible!
If that were not troublesome enough, trying to paint in between those waffle‑like grids would try the patience of a TV producer!
Finally, there is an answer. You have the choice of working with the kit part and having an easy time of filling in those waffle grids OR doing away with that annoying clear part altogether! A replacement part that simulates the look of those tiny circuit boards . . .
— it looks like a circuit board because it IS a circuit board!
Yes! You can replace those circuit board stand-ins with a circuit board! It is fabricated on extra‑thin and translucent printed circuit board. A translucent material was chosen for the Jupiter 2 televeision set for the same reason we did: you can light right through it! Our copper pattern is modeled after the real thing.
The framework that supported the set's circuit boards is replicated in fine brass. Prime, paint and place. It's pretty easy.
No need for decals, see the luster of bare copper,
just like what was used on the Jupiter 2 set!
This Circuit Wall replacement part fits right where the
clear kit part goes. It looks like a circuit board
because it IS a circuit board!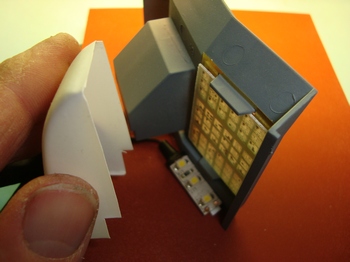 This is a vacuum-formed shell, shown here trimmed,
over the LED Strip in position. It acts as
a light box, evenly distributing the light behind the
replacement Circuit Wall, shown trimmed and in position.
This elaborate multi-media kit also gives you a small vacuum-formed light box. This is placed behind either the original clear kit part or the replacement circuit board and provides a smooth, mixed light in a minimal space. (The standing ship interior piece needs minor surgery—the mounting tabs need to be removed for the replacement part.)
Also included is a sophisticated LED Strip with associated wiring, protective shrink tubing and a rheostat. Yes! Is that light level too "hot" for the rest of your model's lighting? Then dim it down to whatever level you prefer. "Set it and forget it!"
Thank you, Modelman Tom, for the youtube review.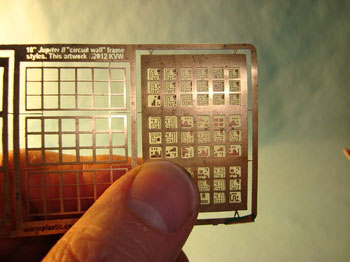 Here is the raw brass mask in use
with the replacement Circuit Wall circuit board.
See how it provides the perfect
"picture frames" for all the stylized circuit wall art!
Paint this brass and you're done.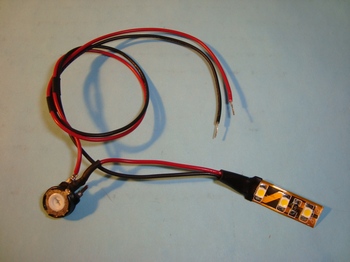 This simple "warm white" LED Strip lighting kit
—shown here built after a simple soldering job—
allows you to light up your circuit wall.
Works if you use the clear kit part or the
Fedoratron replacement Circuit Wall part.
It is dimmable so that you can select
the light level for your model.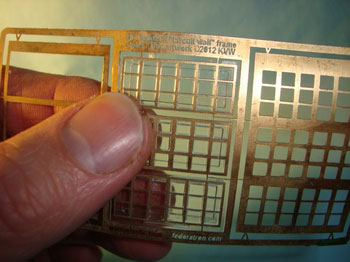 Here is the mask placed over the Moebius Models'
clear kit part—should you choose this approach—No need to
paint the kit part, paint the brass instead!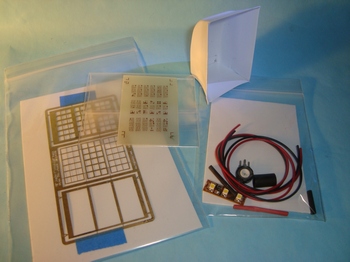 The Circuit Wall Kit includes:
a set of etched brass frames that allow
you to choose the look of your Jupiter 2's circuit
wall (use the clear kit part you have or
use this kit's replacement Circuit Wall), a simple
"warm white" LED Strip lighting kit, a vac-formed light
box and a replacement Circuit Wall that
is made of circuit board material.
Illustrated instructions are provided. You can see the instructions by clicking here. This kit requires little previous experience with etched brass and soldering. The circuit board comes with trim guides and can be cut with heavy-duty scissors or a cutting board.
Shipped in a sturdy box which will add a little extra to the handling charges.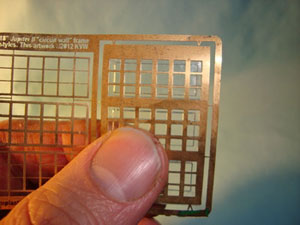 What You Should Know
The brass is literally paper thin — at .003". Thin but sturdy! Some etched brass experience is helpful but not necessary. The illustrated instructions will offer suggestions if minor mishaps occur.
Working with thin brass requires a way to cut the small "frets" that attach the piece to the frame. You probably have the necessary handtool already. Fine‑tipped flush nippers or even a nail clipper will work. A rounded or chisel hobby tool blade, worked against something hard, like glass, smooth stone or metal, is ideal.
You'll also need fine grit sand paper or sanding pads. Then standard primers and paints. Cyanoacrylic "superglues" can work as well as special purpose materials such as Micro-Scale's Kristal Klear or Plaid's Mod Podge — glues that will not craze or fog clear plastic and dry clear.
$42.