Etched Brass Freeze Tube Walls and Floors & Elevator Floor
Enhancement/Replacement Kit for Moebius Models' 18" Jupiter 2™ $25.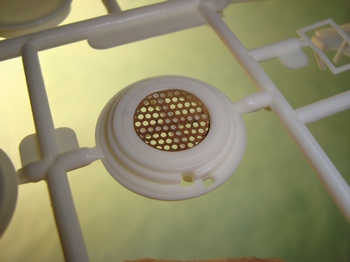 Freeze Tube floor with the etched brass
replacing the clear part.
For the fiendishly difficult parts to paint
You get:
The back wall grillwork of the "Freeze Tubes"
The round floor plates of the "Freeze Tubes"
The elevator floor plate
These parts are cast in clear by Moebius and are impossible to paint. But now, painting these parts is no longer necessary! You make use of the brass replacement parts by trimming, finishing and painting them and either placing them on top of the clear plastic parts or placing them on the model parts where they belong. The floor plates drop into their places and the Freeze Tube wall can be supported, as the model part is, with pieces of brass—which is part of this kit.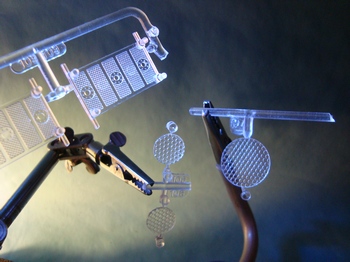 The problem:
Here are Moebius' original kit parts.
Cast in clear, these are nearly imposible to paint!
Now you have an alternative!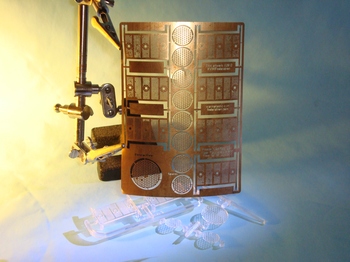 The answer:
The fedoratron enhancement.
Etched brass Freeze Tube wall grills,
Freeze Tube floor plates and elevator floor plate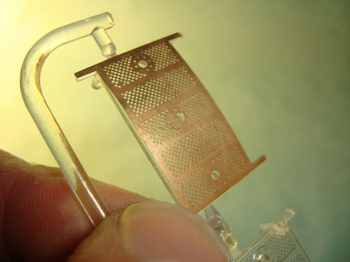 A brass Freeze Tube wall (not painted)
is laid right on top of the clear kit part.
These Fedoratron aftermarket etched brass parts will beautifully enhance your Moebius Models' 18" Jupiter 2. They can be attached to the top faces of all the clear pieces.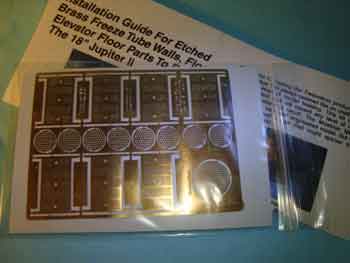 Moebius Models' 18" Jupiter 2™ Brass Replacement Parts Kit comes with
The back wall grillwork of the "Freeze Tubes"
The round floor plates of the "Freeze Tubes" — plus extras in case you
bend them too far
The elevator floor plate
Fully illustrated instructions which can also be downloaded by clicking here
Thank you, Modelman Tom, for the youtube review.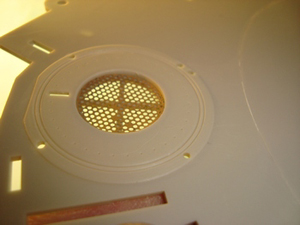 What You Should Know
The brass is literally paper thin — at .003". Thin but sturdy! Some etched brass experience is helpful but not necessary. The illustrated instructions will offer suggestions if minor mishaps occur.
Working with thin brass requires a way to cut the small "frets" that attach the piece to the frame. You probably have the necessary handtool already. Fine‑tipped flush nippers or even a nail clipper will work. A rounded or chisel hobby tool blade, worked against something hard, like glass, smooth stone or metal, is ideal.
You'll also need fine grit sand paper or sanding pads. Then standard primers and paints. Cyanoacrylic "superglues" can work as well as special purpose materials such as Micro-Scale's Kristal Klear or Plaid's Mod Podge — glues that will not craze or fog clear plastic and dry clear.
$25.