The 4x8 32–Light Chaser Kit $75.
Four LEDs Dancing in Eight Bewitching Steps
The 4x8 32‑Light Chaser Kit provides the circular rotating engine light effect for Moebius' 18" Jupiter 2™ model. It is 4.375" in diameter and with the 3mm LEDs in place will fit neatly into the Jupiter 2's engine module.
The 4x8 32‑Light Chaser Kit gives you superior results because:
The chase speed is variable
The light brightness is variable
The LEDs are "warm white." The "warm white" look is more pleasing to the eye; more like an incandescent light source.
You can also use the 4x8 32‑Light Chaser Kit to light up any circular design or project. Without the included Sequenziatore sequencer, the LEDs could simply glow in a circle. You can also substitute other color LEDs. For example, the Polar Light's C‑57D Cruiser engine has a similar rotating engine effect all in red.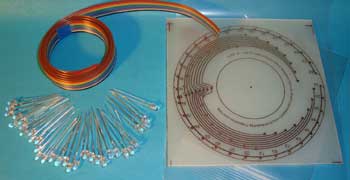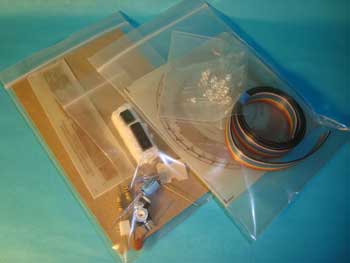 The 4x8 32‑Light Chaser kit includes
A custom circuit board, approximately 4.375" in diameter
32 warm white 3mm LEDs
24 inches of ribbon wire
Illustrated instructions
The 4x8 32‑Light Chaser kit is easy to work with and easy to assemble. The illustrated manual shows step by step how to finish with minimal fuss.
What You Should Know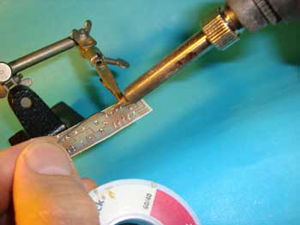 The custom circuit boards are sent to you untrimmed, but the thin material is easy to cut with a heavy-duty scissors or a paper cutter.
Some experience at soldering electronics will be helpful—but this kit can be assembled by a modeler who is just learning to solder. We recommend a fine‑point soldering iron and a small diameter solder.
The custom printed circuit boards will need to be drilled to accept the circuit components. You will need a 1/32" drill bit—or more than one, in case one breaks.
$75.