See the Pulsator in Action.
The Pulsator Circuit Board $14.
For a pseudo–random flicker
Your special modeling projects demand more than one simple blinking light…
The Pulsator Circuit Board allows you the options to have
up to three self-blinking LEDs to make a "pulsing" flicker at a near‑random pattern
and steady illuminated LEDS to ensure that there are no "gaps" in the illumination.
The Pulsator Circuit Board kit is compact and simple—even a beginner at electronics will have no trouble following the illustrated instructions and assembling this custom printed circuit board.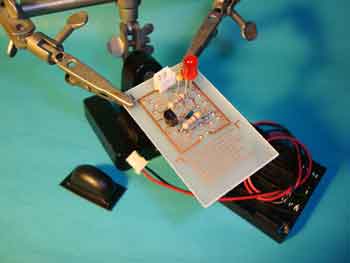 The basic Pulsator Circuit Board with one self‑blinking LED
Need simple fire effects?
No problem.
Need a complex alien rocket exhaust?
It's a snap with The Pulsator.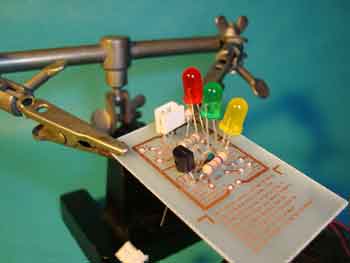 Here all three positions are used for three self‑blinking LEDs
The Pulsator Circuit Board kit comes with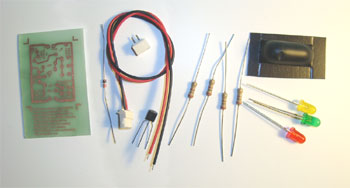 a custom printed circuit board
3 self-blinking LEDs — green, yellow and red
Four resistors — three 1K Ohm and one 200 Ohm
One general purpose, NPN type transistor
One general purpose diode
One set of PC-board type power connectors, plug end with wires
One custom vacuum formed light-blocking shroud
Fully illustrated instructions
In a short time, you can have the blinking light effects that will make your model come to life!
What You Should Know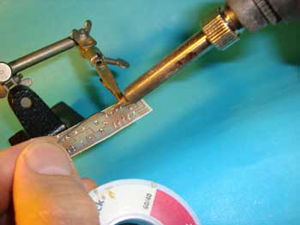 Some experience at soldering electronics will be helpful—but this kit can be done by a modeler who is just learning to solder. We recommend a fine‑point soldering iron and small diameter solder.
The custom printed circuit board will need to be drilled to accept the circuit components. You will need a 1/32" drill bit—or more than one, in case one breaks.
The Pulsator makes a fine start to many, many projects. This kit comes with everything you need to make your basic, variable blink‑rate driver. What is to be "driven" is what you will need to provide. Because there is such a huge variety of LED lighting readily and inexpensively available and such an enormous number of modeling projects to be lit, we could not possibly provide for all the varied uses for this circuit board. The individual decisions about lighting, mounting, powering, etc. are best left to you.
$14.