The Classic Harley Quinn Cork Gun!
Finished and Painted!
Made in the USA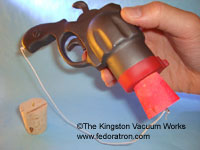 Here is a finished & painted "this-is-NOT-a-kit" version of the classic Harley Quinn great big Cork Gun!
Perfect for cosplay, Halloween or a beautiful and unique display.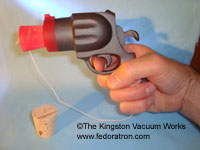 This is a one-piece hollow-cast, full-size resin toy.
You get a finished and painted big ol' cork gun, a painted cork, an unpainted cork (spare), and a cheesy string between the cork and gun.
One cork is painted bright safety orange, the spare cork is not painted. Important: For safety, we recommend that you only use a painted bright-orange cork when you go out in costume.
This toy is painted with Testor Corporation's Model Master brand of metalizer lacquer spray paint in the titanium color and the tip is painted a safety orange.
Just so you know. . .
This is a toy. It cannot be made to fire in any way. It does not go click. The trigger action and the hammer are solid to the body, the barrel does not rotate. This is a ONE PIECE toy that does not have moving parts.
We also sell a model kit version of this toy gun, here at fedoratron.com.