Polar Light's™ 12" Jupiter 2 Fusion Core
Paint

Kit $46.
Now there's easy way to
paint

this . . .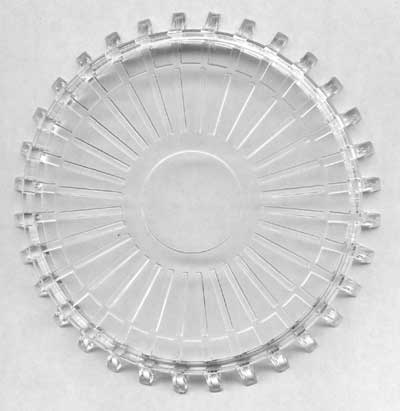 Jupiter 2's All Clear Fusion Core
from Polar Lights
And get these magnificent results.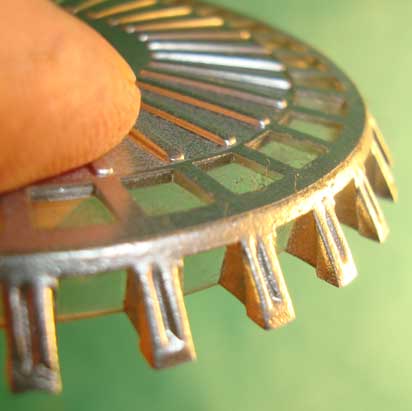 This kit is the answer to that darned box art . . .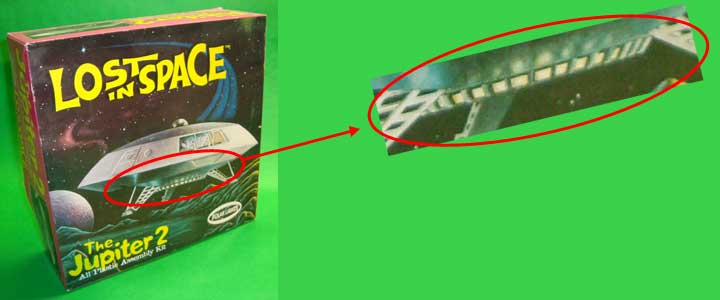 So how were we suppose to paint the clear fusion core piece? By hand? With spray paint and dozens of short thin pieces of masking tape?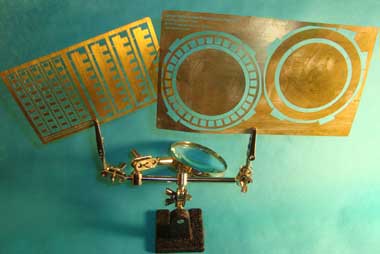 This Is How To Use fedoratron.com's Fusion Core Enhancement Kit
| | | |
| --- | --- | --- |
| | | |
| Apply the paint masks | Prime and paint the fusion core | Remove the paint masks |
| | | |
| --- | --- | --- |
| | | |
| Prime and paint the surface feature | Apply the surface feature | Enjoy the results |
| | |
| --- | --- |
| But wait, there's more | |
| The included shadow covers for the interior light baffles make your lighting look super-realistic | Get this kit to get an easy perfect painted finish on Polar Light's™12" Jupiter 2 Fusion Core |
$46.
What You Should Know
The brass is literally paper thin — at .003". Thin but sturdy! Some etched brass experience is helpful but not necessary. The illustrated instructions will offer suggestions if minor mishaps occur.
Working with thin brass requires a way to cut the small "frets" that attach the piece to the frame. You probably have the necessary handtool already. Fine‑tipped flush nippers or even a nail clipper will work. A rounded or chisel hobby tool blade, worked against something hard, like glass, smooth stone or metal, is ideal.
You'll also need fine grit sand paper or sanding pads. Then standard primers and paints. Cyanoacrylic "superglues" can work as well as special purpose materials such as Micro-Scale's Kristal Klear or Plaid's Mod Podge — glues that will not craze or fog clear plastic and dry clear.