K'Tinga-Quonos Brass Enhancement Kit $53.
Have you got one of these —?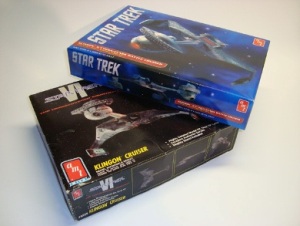 AMT/Ertl's kit #8228 "Klingon Cruiser"
and Round 2 kit AMT794/12 "Klingon K'Tinga-Class Battle Cruiser"
Then you know that the box art shows you this . . .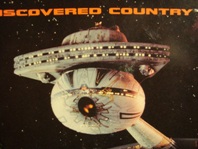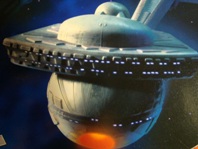 But when you open the box you see this . . .
HUNH!?
With all due respect to AMT/Ertl and the mad geniuses who gave us these fabulous models over the decades . . . but, what were they thinking?!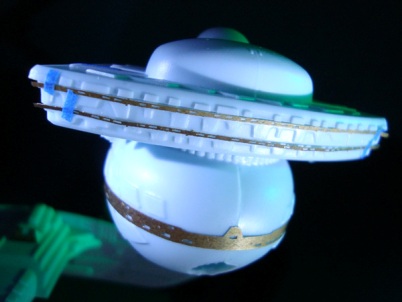 The brass enhancement kit on the AMT #8228
Fedoratron.com proudly introduces an almost perfectly complete* etched-brass kit to enhance and improve these wonderful kits!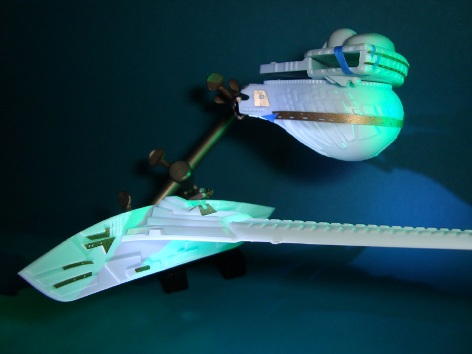 The brass enhancement kit on the AMT #8228
This kit will allow you to either light or improve the surface detailing of AMT/Ertl's kit #8228 "Klingon Cruiser" (the 1992 movie tie‑in for Star Trek VI) or the recently released Round 2 kit AMT794/12 "Klingon K'Tinga-Class Battle Cruiser."
* What I mean by "almost perfectly complete" is that after seeing all the kits I could find and/or afford, I see a bewildering array of ships, designs and end-results. Usually starting with the fine AMT models kits you see above. But there are differences between the two generations of the kits. Specifically, a dramatic change in the decals. The box art also shows two wildly different versions of this "same" ship. My concern was the lighting and it should be noted, that that is different as well.
This brass enhancement kit is made to be used with both of these kits and I used the newer decals as source material.
You can work wonders with any of the regular K'Tinga Battle Cruiser
model kits out there—using this brass set!
You get these three sheets:
$53.
The photos on this page and Steve Neill's video are examples of of what you can do.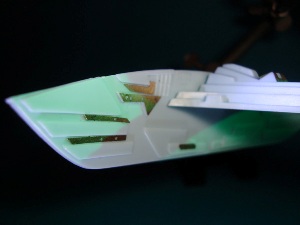 The brass enhancement kit on the AMT #8228
Please note that lighting options for AMT #8228 are limited because the styrene is tinted baby blue. You could use yellow lighting and judicious masking to illuminate through the styrene. Or, you can insert a clear strip behind the brass. Scratch-building a more 'studio model' accurate version of the bridge with a clear background is another option. Our brass enhancement kit contains a brass version of the AMT #8228 window decals.
If you have JT-Graphics' superlative replacement bridge and bulb you can do this: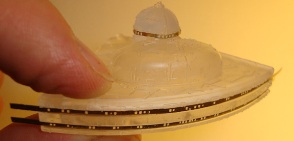 The brass enhancement kit on the JT-Graphics/ Bridge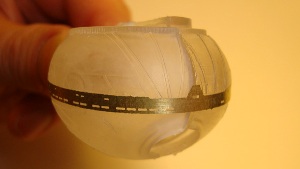 The brass enhancment kit on the JT-Graphics' Bulb
JT-Graphics' bridge and "bulb" are available in solid resin or clear for lighting. JT-Graphics' work is extraordinary and worth your consideration.
This is a lot of brass and you can probably do more than one ship: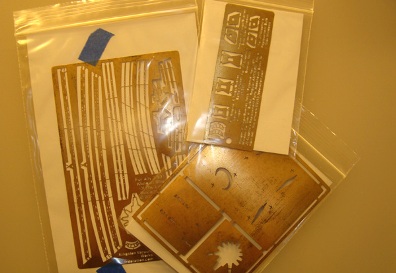 The K'Tinga Brass Enhancement Kit will come to you
individually packed with heavy styrene backing.
$53.
What You Should Know
The brass is literally paper thin — at .003". Thin but sturdy! Some etched brass experience is helpful but not necessary. The illustrated instructions will offer suggestions if minor mishaps occur.
Working with thin brass requires a way to cut the small "frets" that attach the piece to the frame. You probably have the necessary handtool already. Fine‑tipped flush nippers or even a nail clipper will work. A rounded or chisel hobby tool blade, worked against something hard, like glass, smooth stone or metal, is ideal.
You'll also need fine grit sand paper or sanding pads. Then standard primers and paints. Cyanoacrylic "superglues" can work as well as special purpose materials such as Micro-Scale's Kristal Klear or Plaid's Mod Podge — glues that will not craze or fog clear plastic and dry clear.